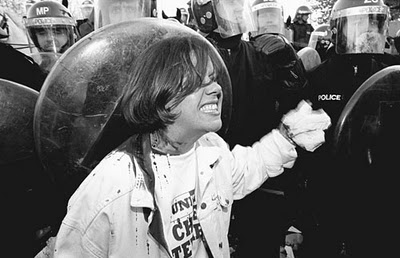 One of the things I've written about in the last few weeks is the experience of re-reading my 1999 book on fascism, with a view to seeing how much of the analysis still stands up.
Here, I thought it might be useful to broaden my focus a little, and treat that book as reflective of a general approach towards anti-fascism. What I thought I was doing, at the time, was writing a conventional SWP-influenced "party line" guide to what fascism was and how to fight it. (Certainly, any number of reviewers took it that way). Twenty years later, it's worth reflecting again – not so much on the book, but on the unspoken ideas of anti-fascist politics which informed it.
Joining the SWP as I did in 1991 was a natural step for any leftist to take. I'd been in the Labour Party for a year, suffered that organisation's lack of interest in stopping the poll tax or the Iraq War. The SWP – because of its success in the 1970s (and the implosion of the Communist Party) – was able to present itself, quite plausibly, as the party of all the movements, so that if you were seriously against racism, sexism, homophobia, and if you were committed to organising in trade unions on a rank-and-file basis, or to stopping the Criminal Justice Act, the SWP was the group for you.
A great deal of the SWP's credibility was down to the large number of people who'd joined the group in 1976-9 during the Anti-Nazi League. The SWP in that period had been able to renew itself, recruiting a younger generation of members who still led SWP branches 15 years later. They were experienced and articulate. They had a philosophy of the world which included art, science, and music. Soon after I'd joined, I went through experiences that seemed to justify my decision to join including the election of BNP councillor Derek Beackon in Tower Hamlets, the campaign to unseat him a year later, and the Anti-Nazi League carnival of summer 1994.
I met my partner at Welling. We're still together, more than a quarter of a century later. The politics of that period shaped me – and continue to shape the socialism in which I believe.
I was in Oxford in 1992-5 and one of the campaigns in which I took part was in support of the family of a middle aged Somali man, S- G- A-, who had been killed in a racist firebombing. The police refused to treat it as a racist murder. The same attackers had, that evening, also attacked a synagogue (the rabbi depressingly, was later a prominent public supporter of Steve Bannon). Together with friends, I helped to take collections for the family, provide security for people afraid of being attacked again, spoke in schools, and helped to call a march in support of the family, attended by them and around a hundred other local residents.
These are some of the proudest memories of my life, and I want to be absolutely clear: if I hadn't met the SWP or the Anti-Nazi League, I would not have had the confidence to believe I could be part of challenging that racism, the skills to organise a protest, or even the sense of obligation which forces you to act in other people's defence. I owe that activism to other people's prompting – and I am grateful to them for pushing me.
You can get a sense of the SWP in this period by thinking of just one high-profile member: Julie Waterson. The leader of the ANL on its re-launch, she was a working-class woman from West Lothian with a fierce sense of humour and an absolutely loyalty to the people around her. If you did something right, she'd tell you. And if you got anything wrong, she wouldn't hold back from telling you. Julie inspired love and anger in equal measure. But if she had one virtue above all it was this – what you saw was what you got. What she said was what she believed; and if you were her comrade then she'd give all of herself for you. There's no better example of that than events at Welling whe she was trying to negotiate with the police, and they responded by clubbing her. She kept on organising the crowd, defiantly, her jacket splattered with her own blood. Could you imagine the grey blurs who run today's SWP putting their bodies on the line for their comrades like she did?
I remember Julie coming to speak to Oxford SWP in 1995; the local branch was ignoring the local Campaign to Close Campsfield – in practice (and without any ever having admitted this), because we didn't run it and other groups did. "What are youse doing?" Waterson demanded. I also remember a couple of years later when I started writing for Searchlight magazine. At that year's SWP conference, Julie took me aside. "We've had a discussion on the Central Committee," she began. They'd had a vote and wanted me to stop writing for what was, after all, a rival leftwing publication. "If you listen to those bastards" (she meant her comrades on the CC), "I'll never forgive you."
Under her leadership, the anti-racist part of the SWP was in some ways recognisably like the sort of left you'd want to see nowadays – it actively cultivated the support of Jewish Holocaust survivors, it put them on platforms, it also tried to educate its members in something of the black Marxist tradition. We might not have known for the most part who Darcus Howe how was, or the origins of the Race Today collective, but we were expected to have read about Malcolm X, the Panthers, DRUM…
A surprising lot of all left-wing politics is about positioning, and the niche the ANL carved out was for "mass" anti-fascism.
Further to our left, although sometimes we pretended they weren't there, were the "militant" anti-fascists of Anti-Fascist Action. (This is their term for themselves; we called them "squaddists"). AFA specialised in events such as confronting BNP paper sales, and physically turning them over. If a fascist was speaking in a town hall, AFA would insist on anti-fascists forcing their way in and preventing the fascist from speaking. The ANL, by contrast, emphasised numbers: winning the Labour Party and unions. The idea was to organise huge turnouts in order to physically confront and beat the far-right, but (AFA complained) there was a lot more emphasis on generating the numbers than there was on ever using them.
Meanwhile, on our right, we had the Anti-Racist Alliance, a campaign which focused much more on winning mainstream opinion to anti-racist and anti-fascist positions. It was broader than the ANL, with a much greater focus on eg all-black shortlists for Labour Party selections, a much greater opposition to institutional racism in the police. But at key moments, it was more "liberal" than the ANL.
So if you take events at Welling in 1993, the single major street confrontation in this period (albeit with certain previous AFA mobilisations, notably the "Battle of Waterloo", not far behind it). Welling saw an alliance of left wing groups (SWP/ANL and Militant/YRE) temporarily agree to hold a joint march against the BNP. AFA and other forms of radical anti-fascism (eg anarchists, Class War) were there. At Welling, anti-fascists fought the police, defying batons, throwing bricks in return. Tens of thousands of people were there. Meanwhile, ARA were organising a rival, peaceful protest, barely a thousand strong, miles from the BNP headquarters.
Fascism: Theory and Practice was an attempt to express the perspective of my party and my left "generation" in book form. Reviewers understood that and tended to read the book either positively or negatively according to how they saw the SWP in general.
Of course, that organisation no longer exists. At the start of the 2000s, Julie Waterson was removed as the SWP link to the ANL. The SWP's anti-racist work which was handed over to Martin Smith and Weyman Bennett, two individuals who lacked Julie's sense of fun – or her honesty.
The ANL was folded into a different campaign "Unite Against Fascism", whose methods of organising were both more liberal than the 1990s-era SWP, while also ceding to ARA the principle of black political leadership.
None of this was healthy for my old party. In 2004-6, the SWP put on a dozen events, including both concerts and traditional speaking engagements, for the Holocaust denier Gilad Atzmon. (One SWPer, Richard Seymour did speak out against Atzmon's promotion; but years had to pass before anyone else in the SWP would agree publicly with him).
Black political leadership, exercised by a middle-aged white socialist, caused Martin Smith – and the people around him – to lose all sense of who they were. If you want to get a sense of what UAF's anti-fascism became, then watch the five-minute film taken in 2010 of Smith speaking outside Westminster Magistrates' Court after he had been convicted of assaulting a police officer. Smith had just been convicted for assault (kicking a policeman in the balls). It wasn't part of any synchronised attack on police lines, still less on the EDL, but a juvenile piece of posturing: the sort of thing that someone might do if in their head they were Leon Trotsky, but life itself wasn't providing the chances to lead anything real. Smith's petulance was punished with a community sentence. Not the prison sentence it might have received had the prosecution been motivated by political malice, and the courts genuinely cracking down on anti-fascists.
Outside court, Smith told his supporters that he was in a tradition, "If you go back to the first black regiments in the American civil war, the black soldiers were sent back to become slaves and their white generals were shot … In Birmingham Alabama in 1963, people went in their thousands to prison to break the Jim Crow laws. So I stand in the best of company, with Malcolm [X], with Martin [Luther King]…" In his imagination, Smith had ceased to be like the great leaders of the past, he was one of them, as black and as poor and as unjustly victimised as all the others.
I've described before how the members of Martin Smith's bodyguard behaved in 2013: the violence which they had threatened against the far-right was now turned inwards against a much more available target: a generation of young socialists who had had the temerity to argue that sexual harassment or rape were inappropriate conduct for the leader of a left-wing party. The people who were used to following Martin Smith's lead repeated his explanation of what had gone wrong – his claims of victimhood, his sense that somehow "the state" or other dark forces were behind everything bad that had befallen him.
There is a reason why so many of the early 90s ANL generation had left the SWP by the end of 2013. We knew – better than the others who stayed were willing to admit – how far the group had fallen.
But imagine you could recreate it all – the good and the bad – highlight the former and dial down the latter. When you looked at what was left, would it be an anti-fascist politics worth salvaging?
These days, I don't tend to see either mass or militant anti-fascism as singly "the answer", but as successive steps the left needs to take. When fascist parties emerge from street movements (stage one of Robert Paxton's five stages of fascism) and become electoral parties (stage two) the burden is likely to shift from "militant" to "mass" forms of protest. Saying that one form of struggle is the answer is like saying that a hammer is better than a paintbrush – you need them both, you use them for different things.
Moreover our anti-fascism has to broaden to a different kind of cultural work: not just the political struggle, including the street-fighting which Julie Waterson understood, but also that kind of free flowing and non-political campaigning in which (say) the original Rock Against Racism specialised, but ANL mark two could only ever copy.
Undoubtedly, there will be movements in future which are serious about anti-fascism and which have the same levels of support as 1930s or 1970s or even 1990s-style anti-fascism.
When they emerge, they'll need to be better-rooted in culture – online and offline. I hope they find people to lead them with an honest sense of who they are and a commitment to the movements they lead. So yes, we'll need more Julie Watersons, and more of the politics she lived by.
___
If you've enjoyed this piece, my new book Fascism: History and Theory is published by Pluto on September 20 – you might like it too.